The College of Charleston Cougars play in Round 1 of the 2018 NCAA tournament after winning the regular season in the CAA conference and the tournament championship in an overtime win over Northeastern University at the North Charleston Coliseum March 6 (83-76). Northeastern U is located in Boston, MA. The Cougars were down 17 points in the 2nd half.
The game tonight pits them against the SEC's Auburn University (SEC). Watch the game tonight, March 16 at 7:27 PM EST on truTV. The Cougs are seeded 13th in the Midwest region and play #4 seed Auburn University in San Diego.
Cougar players to watch are Joe Chealey, senior guard; Grant Riller, sophomore guard; and Jarrell Brantley, a junior forward. Chealey set a 32-point personal scoring record vs Northeastern in the championship game. Riller contributed 20 points and Brantley had a double-double with 18 points and 11 rebounds. Auburn coach Bruce Pearl referred to this trio as a "3-headed monster" who can score. Marquis Pointer is a senior guard who is also important in the Coug lineup. Coach Pearl might have to revise his quote to a 4-headed monster.
Auburn is favored by 9 points but don't count the Cougs out. 4th year coach, Earl Grant as a guard lead his Georgia State team to the NCAA Elite 8 in 2000. As an assistant under Gregg Marshall (Winthrop and Witcha State), Grant has coached in the NCAA tournament 6 times. Grant lead the Cougars from a 9-24 record 4 years ago to 26-7 this year. If the Cougars win game 1, they play Saturday, March 17, against the winner of the Clemson/New Mexico State game.
The Cougars are returning to the NCAA Big Dance after a 19-year absence. They played in the NCAA tournament 4 times under former Coach John Kresse.
Coach Grant purchased five members of his staff new suits, ties and shirts from 319 King, following in the steps of Coach Gregg Marshall.
.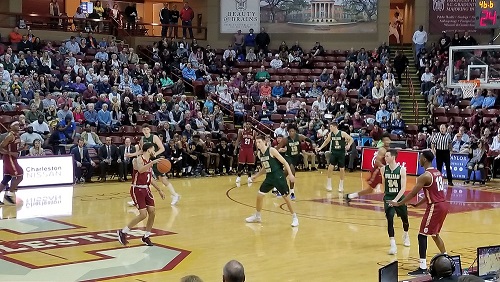 On Feb 8 Grant Riller, a sophomore guard, scored 37 points on his 21st birthday. Riller missed tying the Cougars most points in a game record by 2. Feb.15 Riller's 3-pt shot in OT lifted the Cougars over James Madison. Riller scored 32 and Jarrell Brantley contributed 20.